There is no doubt that wood floors can add a beautiful touch to any home and that it can often help increase resale value. However, knowing whether to choose solid hardwood flooring versus engineered wood flooring can be a little confusing if you don't know the pros and cons that each material has to offer. In this flooring guide from All Flortec, we break down the good and bad features of both solid hardwood and engineered wood floors, so read on to learn more about these popular flooring styles, and weigh the advantages and disadvantages of each before deciding which one is best for you!
To explore even more resources like this one, be sure to check out the full archive of featured content on our blog, including general flooring guides, seasonal maintenance for wooden decks, trending contractor projects, and tons more fun and informative topics.
Solid Hardwood Flooring
Solid hardwood planks are milled from a single piece of wood, typically 3/4″ thick in height, and these planks are then treated with a protective coating. These floors can be sanded and refinished numerous times over the lifespan of the floor, allowing homeowners and property managers to keep their floors looking great, year after year, footstep after footstep. However, one drawback with solid hardwood floors is that they can expand and contract as the relative humidity in your home changes — and it definitely gets a bit muggy here in New Jersey! Maintaining an indoor humidity of 45% to 65% is recommended to help protect solid hardwood flooring.
In order to prevent warping or other damage, installation specialists or flooring contractors generally leave an expansion gap around the perimeter of the room which helps compensate for some expansion. This small gap can be easily covered with a base molding. Due to the potential damage that could occur if solid hardwood flooring is exposed to moisture, it is typically only recommended for use in areas that are above grade.
Engineered Hardwood Floors
Engineered hardwood floors are made by bonding together several pieces of wood, generally 3 to 5, where only the top veneer layer is hardwood. The hardwood surface is then backed by less expensive substrates, such as plywood or even recycled wood fibers that are mixed with ground stone for added durability. Engineered wood floors are manufactured using pressure and heat, so they are less prone to damage from humidity. This makes them more suitable for humid areas or rooms that are below grade, provided that an appropriate moisture barrier is used.
It is also possible to get engineered hardwood planks that are made with tongue and groove, which require no nails or glue to install, and therefore can be constructed or repaired in less time, and usually at a lower cost.  Additionally, because they are less likely to warp, engineered hardwood floors can be installed on almost any level of any property, whether it's a commercial building in New York or a residential home here in the Jersey suburbs. They are also the preferred choice for rooms such as kitchens or bathrooms because of their ability to withstand moisture and humidity for years on end.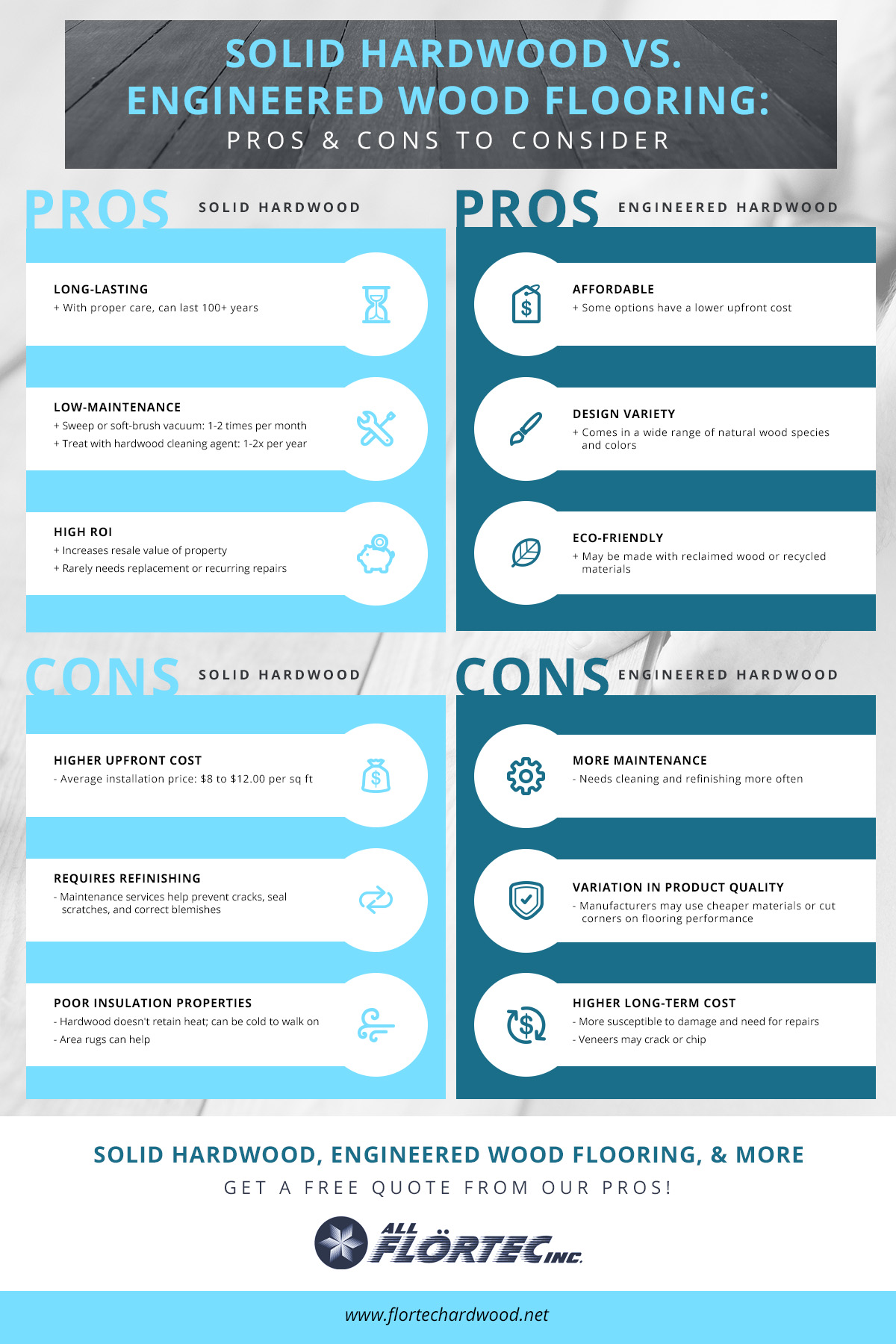 Which is right for you: Solid or Engineered Hardwood Flooring?
When trying to choose solid hardwood flooring vs engineered hardwood flooring, some important factors should be taken into consideration. For example, engineered hardwood floors can be installed over concrete, OSB, plywood or wood, whereas solid hardwood flooring cannot be installed directly on top of a cement subfloor.
No matter which flooring option you ultimately choose for your project, whether it's related to home improvement or commercial property renovation, All Flortec is your go-to team of contractor specialists to get the job done. We'll walk you through your options for many different types and budget ranges of flooring in both engineered wood and solid hardwood varieties.
Need help with a custom project? We can accommodate attic flooring, walk-in closet flooring, and other personalized solutions. Get started with a free quote from All Flortec, please contact us today!